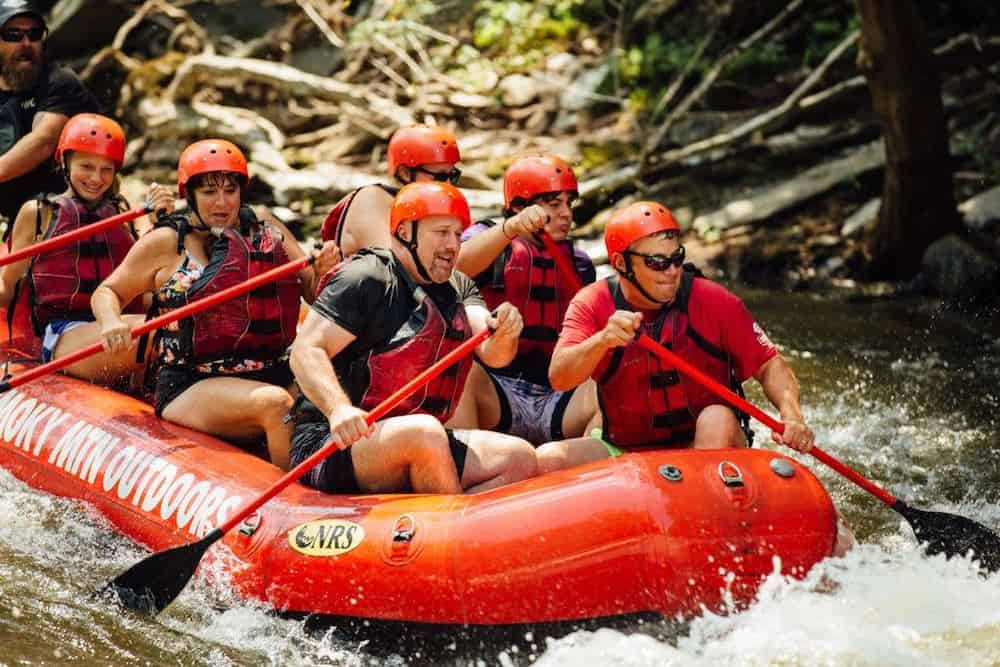 Are you wanting to go whitewater rafting with us when you visit the Smokies this year? We offer opportunities for plenty of fun! Book your rafting trip, and also look into ziplining with our combo package! You'll save some money and have more than one fun thing to do! Here are 4 perks of whitewater rafting with us then ziplining in Gatlinburg TN:
1. Multiple Fun Things to Do
When you choose one of our combos with whitewater rafting and ziplining in Gatlinburg TN, you'll have more than one fun activity to do on your vacation! You know you'll have a blast on your whitewater rafting trip, and you can expect the fun to continue with a zipline adventure. When you book our combo package, you can raft one day and then zipline the next!
2. Already Have Plans
If you're a planner, then you know how satisfying it is to already have set plans when you go on vacation. There's no wondering what you're going to do that day or spending hours researching instead of enjoying your time off! Even if you aren't a planner, you'll want to go ahead and reserve your trip with us so you can guarantee you get the trip you want. When you plan your whitewater rafting trip and ziplining trip in advance, your family won't have a chance to be bored while you try to figure out what to do on your vacation. Plus, it's nice to already have a plan so there's nothing to get stressed out about!
3. Save Some Money
The best thing about booking your whitewater rafting trip and then a ziplining trip with us is you get to save money! Who doesn't want to save money on great activities? When you book both of these fun things to do through us, you'll save a little bit per person, making it worth the combo package.
4. Get in Some Quality Time
When you go on vacation, you want to relax and enjoy yourself. It's also the perfect opportunity to spend quality time with your friends and family. What better way to make memories and spend time together than doing something exciting and fun? When you go whitewater rafting, you'll all be in one raft and will remember the fun you had together for years to come. You'll love reminiscing about flying through the trees and walking along the bridges together when you go ziplining. There's nothing better than a fun adventure to spend quality time with the ones you love!
More About Whitewater Rafting and Ziplining in Gatlinburg TN
You can choose which rafting trip you want to experience with us! The Lower River trip is a more relaxing trip that's perfect for kids, while the Upper River trip is exciting and great for those who are looking for a thrill. For the ziplining tour with CLIMB Works, you will get to experience 9 ziplines in the treetops of the Smoky Mountains or see incredible mountain views as you soar through the air. To get to platforms, you'll take a ride on an ATV to the starting point; plus, there's a surprise ending!
You'll definitely want to go whitewater rafting with us then ziplining in Gatlinburg TN when you come to the Smokies. Find out more about our combo packages and then start planning your trip now!