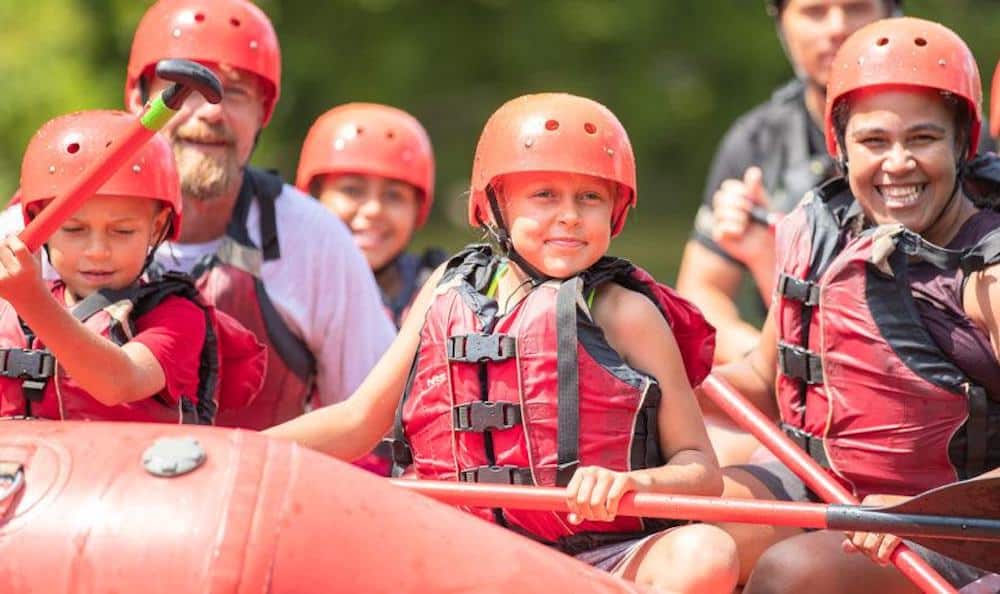 Enjoy frothy waves and contagious laughter as you travel down the Pigeon River white water rafting and building memories your loved ones will cherish. Many families with small children wonder whether they can participate because of the rapids, but, here at Smoky Mountain Outdoors, you have no reason to wonder because we have safe options for all ages. You can take your vacation to the next level and experience Smoky Mountain white water rafting for kids like never before!
Lower Pigeon River
For families with small children, there are rafting options available so everyone can enjoy this wet and wild sport. Lower Pigeon River Rafting is one of the best trips for white water rafting for kids in Gatlinburg. This 5.5 mile trip combines a majority of Class 1 and 2 rapids. These rapids have small waves, and there are few obstacles. This option is available to children as young as 3 with an adult. Make sure to pack extra clothes because splashing and water fights are popular on this adventure!
Upper Pigeon River
For older kids, Upper Pigeon River Rafting is available to anyone ages 8 years and up or 70 pounds and up. This trip is 6.5 miles down Class 3 and 4 rapids in the Pigeon River. For around 2 hours, our certified guides will lead you down an exhilarating trip. Having received more than 3,750 5-star reviews on TripAdvisor, we have a proven record of safety and promise to take care of your kids.
Another reason we're a great spot for family white water rafting is because rain won't get in the way of your adventure! Rafting is actually a great rainy day activity because you'll get wet white water rafting no matter what! With our variety of rafting trips, you can easily find the right one for your family.
More About Family White Water Rafting in the Smoky Mountains
We offer the best rafting for kids in the Smoky Mountains. Whether your kids are younger or older, there's an experience for kids of all ages. Rafting in the Smoky Mountains is an incredible adventure for families to enjoy together. Whether you're floating through the scenic Pigeon River gorge or surfing big waves on the Upper River, you'll be making memories that will last a lifetime. Next time you visit the Smoky Mountains, be sure to try one of our family white water rafting trips!
We offer both our Lower and Upper River trips in the summer for families to enjoy. No matter when you plan to visit, it's never too early to book your trip! By planning in advance, families with a tight budget or timeline will be able to save money and have everything reserved. Book your trip now and get great deals on Smoky Mountain white water rafting for kids.