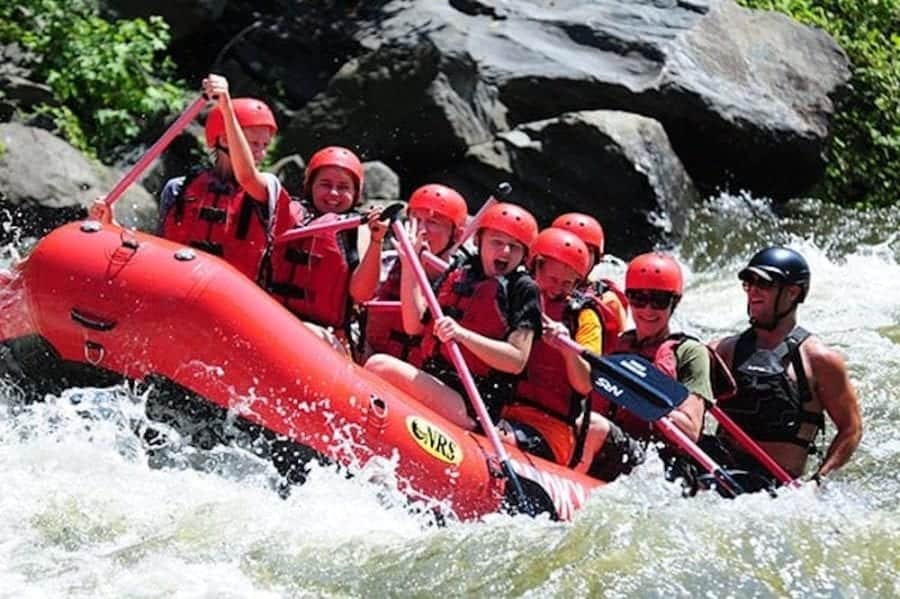 Top 4 Tips for White Water Rafting in the Smoky Mountains for the First Time
A white water rafting adventure with Smoky Mountain Outdoors is the ultimate way to enjoy the beauty of the Smokies! We offer several fantastic excursions on the Pigeon River where you can experience everything from a leisurely float trip to the thrill of class III and IV rapids! If you are planning this awesome activity for the first time, there are several things that you can do to get ready for your adventure! Here are the top 4 tips for white water rafting in the Smoky Mountains for the first time:
1. Wear Clothing That You Can Get Wet
When going white water rafting in the Smoky Mountains, you can count on getting wet and possibly even soaked! Therefore, you should prepare for your trip by wearing clothing that you don't mind getting wet, such as a swimsuit or shorts. We require that you have secure shoes like tennis shoes, water shoes or sports sandals with a heel strap. Bare feet and flip-flops are not permitted for safety reasons. You should bring a dry change of clothes and a towel too. You will certainly appreciate after your time on the river! For more information, check out these things to remember on a white water rafting trip.
2. Select Your Rafting Excursion
When planning your experience at Smoky Mountain Outdoors, select the white water rafting trip that is best for your family or group! After all, we want everyone to have a great time on the river without feeling too intimidated! Our Lower River Rafting trips are perfect for families with young children. These are gentle trips where water fights and splashing are very popular! If you are feeling more adventurous, our Upper River Rafting trips offer a chance to experience around 70 rapids ranging from class I to class IV! We are also pleased to offer Spring and Fall Trips and Extreme Upper River Rafting.
3. Pick an Available Time
One important thing to note about white water rafting in the Smoky Mountains is that some of our trips are based upon the time of year. For example, our Spring and Fall Trips are only available March 1st to April 30th and Labor Day to October 15th since the water levels are less predictable during these times and are based upon local rainfall. However, the water flow is consistent from Memorial Day to Labor Day so that trips can be scheduled accordingly. Reserve your spot on the river ahead of time to guarantee you get to go when you want!
4. Get Ready to Have Fun!
The best way to prepare for white water rafting in the Smoky Mountains is to get ready to have fun! Our top priority is to provide you with a safe experience on the river that you will remember forever! You don't even need to know how to swim to join in on the fun! Each of our guests is issued a type 5, Coast Guard approved personal flotation device. If you are worried about rain spoiling your trip, you will be happy to know that we raft in the rain! In fact, white water rafting can be one of the best rainy day activities because getting wet is just part of the fun! To learn more about rafting in the Smoky Mountains, check out these 4 interesting facts about white water rafting.
Now that you know the top tips for white water rafting in the Smoky Mountains for the first time, learn more about white water rafting in the Smokies and get ready for an adventure! We hope to see you soon at Smoky Mountain Outdoors!