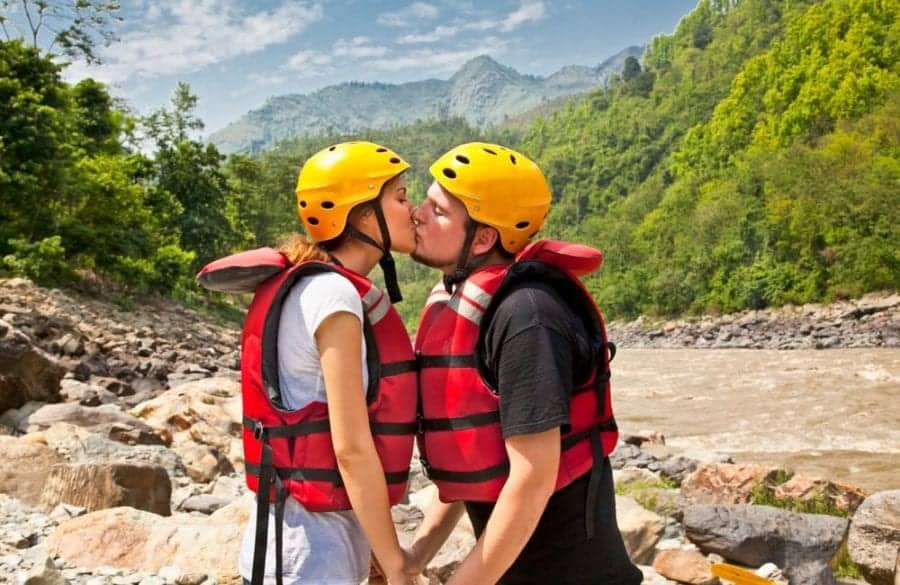 Top 10 Reasons White Water Rafting in Gatlinburg is the Perfect Date
Tired of the same old dinner and a movie? For your next date, ditch the boring cliches and have an experience you'll never forget!  Whether you've been married for years or you're just getting to know each other, white water rafting in Gatlinburg is the perfect romantic adventure. We've put together our top ten reasons to grab your special someone and take a ride on the Pigeon River with Smoky Mountain Outdoors.  
(See Also: 6 Questions to Ask Before Going White Water Rafting in Gatlinburg)
1. White water rafting is so much more exciting than a typical date.
Your significant other will be really impressed that you came up with such a creative and exhilarating idea! Breaking away from the traditional date ideas makes everything feel fresh and new.
2. There will always be something to talk about.
When you're on a first date, making conversation can be a little intimidating. With white water rafting, there will never be an awkward silence or a dull moment. Whether you are discussing rowing techniques or the gorgeous river, you'll find endless conversation topics.
3. You'll be surrounded by romantic scenery.
During your rafting adventure, couples will enjoy gorgeous views of the Pigeon River and the rest of the Great Smoky Mountain area. Nothing encourages romance like the natural beauty of East Tennessee!
4. Couples will enjoy the perfect amount of quality time.
Sometimes first dates can run a little too long or too short. When you plan your date with Smoky Mountain Outdoors,  you can decide exactly how long your date will be by picking the right rafting package. With everything from a little over two hours to a five hour combo trip, you'll be in control of how long your date runs.
To learn about the different packages we offer, visit our white water rafting trips page.
5. You will get to show how brave and strong you are.
Everyone likes to show off a little on a date, right? Demonstrate your bravery by conquering class 3 and 4 rapids! Rowing is also a great opportunity to subtly let your date know that you've been working out.
6. An active date is a good date.
Scientific studies have shown that people feel emotions more strongly when they experience a higher heart rate and have adrenaline flowing through their veins. White water rafting will get your heart pumping, which could encourage a visit from Cupid.
7. There's no better way to get to know each other.
Talking over dinner is nice, but you will really learn about your date when you see how he or she reacts to class 4 rapids and crashing waves!
8. Adventure brings couples closer together.
White water rafting is a totally unique and exhilarating experience. Sharing this one of a kind adventure is guaranteed to bring you closer to that special someone.
9. After your rafting trip, you can see everything Gatlinburg has to offer.
Smoky Mountain Outdoors is just 45 minutes away from the city of Gatlinburg! After your trip, you can drive to the downtown area and enjoy a meal or a drink at Best Italian, Blaine's Grill & Bar, No Way Jose's Mexican Cantina, or one of the other awesome restaurants in the area.
10. You will never forget your white water rafting date.
Years after your white water rafting trip, you will still have vivid memories of your date. Couples love to reminisce about their time with Smoky Mountain Outdoors, and lots of them come back to see us!
To learn more about white water rafting in Gatlinburg, visit our White Water Frequently Asked Questions page.