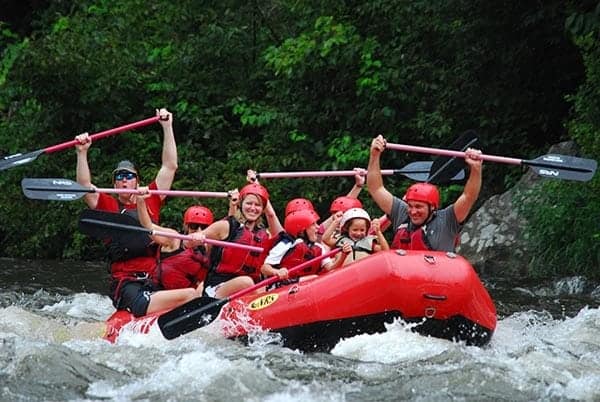 Is White Water Rafting Near Gatlinburg Safe? Yes, and Here is Why!
Smoky Mountain Outdoors offers thrilling white water adventures down the Pigeon River that are designed with your safety in mind! If you have been asking yourself "is white water rafting near Gatlinburg safe," let us put your mind at ease! Here are just a few reasons why our white water rafting trips are safe for you and your family:
1. Safety is Our Top Priority
We want our guests to feel as secure as possible while enjoying the unique opportunity to raft down the Pigeon River! Therefore, safety is the top priority of our business and we have made every step possible to ensure the comfort and safety of your family members. Before each white water rafting trip, our staff provides a 20 minute safety talk to prepare your family for a fun and safe experience on the river. If you have any safety concerns or questions about your rafting adventure, our guides will be happy to address any of these concerns.
2. Certified Guides
All of the white water rafting guides at Smoky Mountain Outdoors are fully certified in Standard First Aid, and there is a waterproof first aid kit on each and every trip. In addition, all guides have completed a strict training program with at least 15 to 20 trips down the river before qualifying for our commercial trips. We have an incredible reputation for safety that can be heavily attributed to our professional and safety conscious guides. Their job is to ensure a fun trip for you while keeping you and your family safe!
3. Safe in the Rain
We run our white water rafting trips even in the rain, so weather is never a safety issue when rafting with Smoky Mountain Outdoors. If you have concerns about rafting in the rain, there is no need to worry as our guides are accustomed to any weather conditions. Besides, getting wet is all part of the fun and rafting can be one of the best rainy day activities for your vacation! If there is severe inclement weather such as strong storms, trips may be briefly delayed to allow these weather conditions to pass.
4. Swimming Skills not Required
If you do not know how to swim, this is not an issue at all on our white water rafting trips! There's no issues with riding on our trips down the river, but all of our guests are issued a personal flotation device that has been approved by the Coast Guard. Our guides will explain exactly how to put on this lifejacket that has been specifically designed to provide all of the flotation necessary while on the river. Therefore, non-swimmers and swimmers alike can focus on the enjoyment and excitement of our white water rafting adventures!
5. Age Restrictions for Safety
Smoky Mountain Outdoors has designed its white water rafting trips as a fun and safe family activity for your vacation, and there are only just a couple of restrictions for our trips. On the Upper Pigeon white water rafting trip, there is a minimum age/weight requirement of 8 years old or 70 pounds. For our Lower Pigeon raft trip, children must be a minimum of 3 years old. As you can see, our white water rafting trips can safely accommodate most family members!
If you have been wondering is white water rafting near Gatlinburg safe, the answer is ABSOLUTELY! Smoky Mountain Outdoors prides itself on providing an excellent day out for your family. Check out our white water rafting trips and we look forward to seeing you on the river!