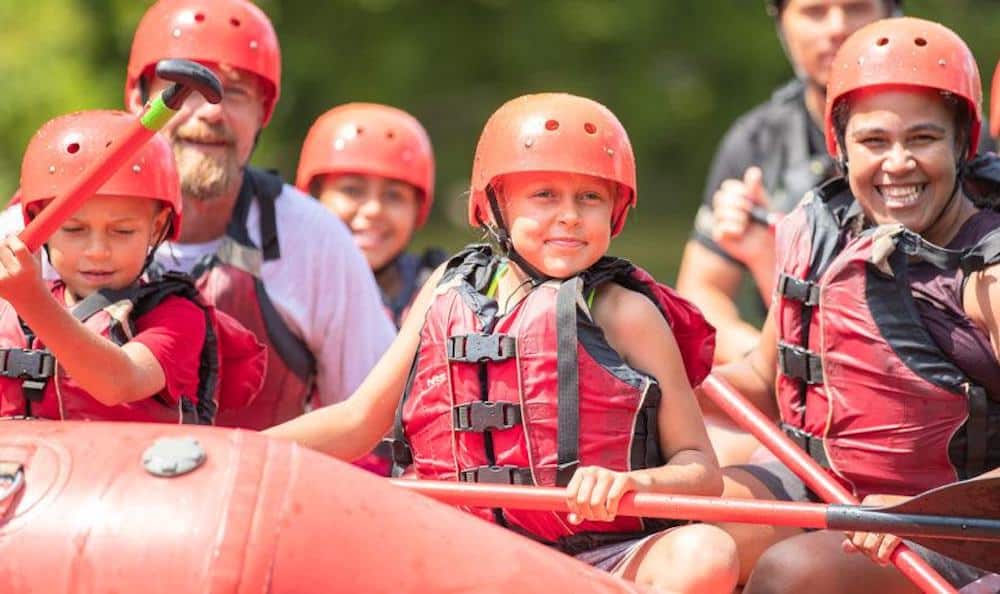 5 Things You'll Love About Lower River Rafting in the Smoky Mountains
Are you looking for a fun outdoor activity to enjoy this summer when you visit the Smokies? Come rafting with us at Smoky Mountain Outdoors Rafting! Our Lower River Trip is the perfect adventure for families — especially families with kids. To help you learn more about this trip, we've made a list of the top 5 things you'll love about lower river rafting in the Smoky Mountains:
1. Great for Kids
Our Lower River Rafting Trip is the best adventure for children! Anyone 3 years and older can enjoy this rafting trip. A professional guide accompanies you on the trip, so all you have to do is have fun. We know that kids can get nervous trying new things, but our guides tell jokes, share information about the area, and calm any nerves the kids might have about rafting! It's also calmer than Upper River Rafting, so you don't have to worry about the rapids being too rough for your children. Everyone will have a great time on the river!
2. Scenic Float
When you take our Lower River Rafting Trip, you'll get to enjoy a scenic float through the Pigeon River gorge. If you're looking for an adventure with a little less speed, you'll love lower river rafting in the Smoky Mountains. You'll have the opportunity to take in the views and enjoy breathing in the fresh mountain air as you coast down the river.
3. Get to Splash Around
One thing that people enjoy the most about lower river rafting is the chance to actually enjoy the water. Since the water on this trip is calmer, you'll have the opportunity to splash around! Water fights and splashing are incredibly common on our Lower River Trip. Families and friends love getting into splash fights! It's the perfect way to keep cool during the summer heat in the Smokies.
4. 5.5 Miles of Fun
This adventure is a 5.5 mile trip down the Lower Pigeon River. The fun begins at our outpost and ends at the Denton Bridge, where you'll ride a bus back to our outpost. You'll get to spend about 1 to 1.5 hours on the water! Keep in mind trip times may vary depending on water levels and natural conditions. Your family will love getting to spend quality time together on the river!
5. It's Safe
Like we mentioned before, we have a professional guide in every raft! This helps our guests feel safe so they don't have to focus on anything but having a great time. Each of our guides has completed a training program that includes at least 15-20 trips down the river and is First-Aid certified. They'll also answer any questions you have before (and during!) the trip to ease any concerns you may have.
Come Lower River Rafting in the Smoky Mountains
Are you ready to come enjoy this fun adventure on the river? Reserve your spot for lower river rafting in the Smoky Mountains with us today. We look forward to seeing you!