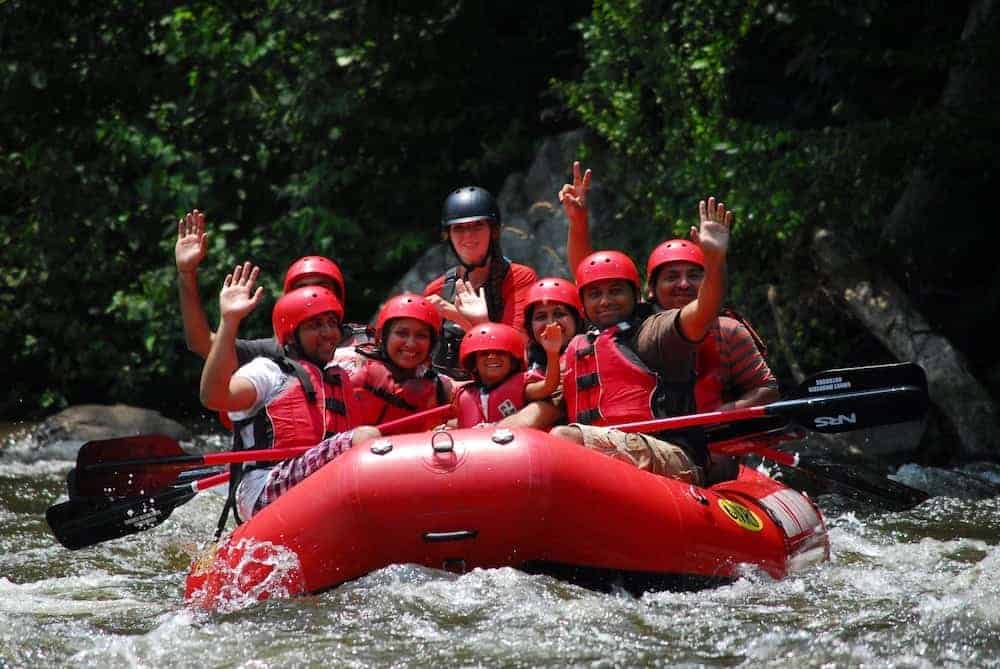 Top 5 Reasons Families Love Our Smoky Mountain Whitewater Rafting Trips
If you are planning a vacation to Gatlinburg, treat your family to a whitewater rafting adventure with Smoky Mountain Outdoors! We offer several fun rafting trips on the Pigeon River where you can experience the thrills of rapids and the breathtaking scenery of the Smokies! Here are the top 5 reasons why families love our Smoky Mountain whitewater rafting trips:
1. Short Drive from Gatlinburg
When you are spending a relaxing family vacation in Gatlinburg, the last thing you want to do is to drive for hours on mountain roads just to access whitewater rafting! One of the awesome things about Smoky Mountain Outdoors is that our rafting outpost is just a short drive from Gatlinburg, making it an easy day trip! While most of our Smoky Mountain whitewater rafting trips take from 1.5 to 2 hours, you should allocate at least a half day of your vacation to join us on an adventure. After you spend your morning with us, head back towards Gatlinburg where you can enjoy lots of shopping and dining options. If you want to stay outdoors, explore some of the hiking trails in the Great Smoky Mountains National Park.
2. Fun Activity for Kids and Teens
We know that it can often be difficult to keep kids entertained throughout a vacation, but you don't have to worry about that when you raft with us! Our whitewater rafting trips are a fun activity that your younger children and teenagers will remember for a lifetime! The Lower Pigeon River trip is especially recommended for children as the rafting is mild, and kids only have to be at least 3 years old to join this trip. The Upper Pigeon River trip is a bit more wild and the minimum age/weight restrictions for that trip are 8 years old or 70 pounds. Learn more about why kids love whitewater rafting with us!
3. Trips Run in the Rain
There is nothing worse than having your vacation plans for the day ruined with rainy weather! The good news is that our Smoky Mountain whitewater rafting trips take place even if there's a little bit of rain! In fact, the rain only adds to all of the fun of getting soaking wet with your family on the river! Of course, if there is severe inclement weather trips may be delayed for both the safety of our guests and our staff.
4. Affordable Prices
We are pleased to offer affordable prices for all of our excursions so that your family can enjoy a whitewater rafting adventure without spending a fortune! If you want to save some additional money, consider one of the package deals at Smoky Mountain Outdoors where you can combine whitewater rafting with ziplines or other exciting attractions in the Smokies!
5. Safety is a Priority
At Smoky Mountain Outdoors, we want you to feel comfortable with your family members on the river and you can rest assured that safety is our top priority! All of our whitewater rafting trips are fully guided by a professional team member who will help your family navigate down the river. When you arrive for your excursion, there will also be a safety talk at our outpost and you can feel free to ask any questions or discuss any concerns that you might have about your trip.
Check out all of our Smoky Mountain whitewater rafting trips today to plan an exciting adventure on the Pigeon River! We look forward to seeing your family soon at Smoky Mountain Outdoors!