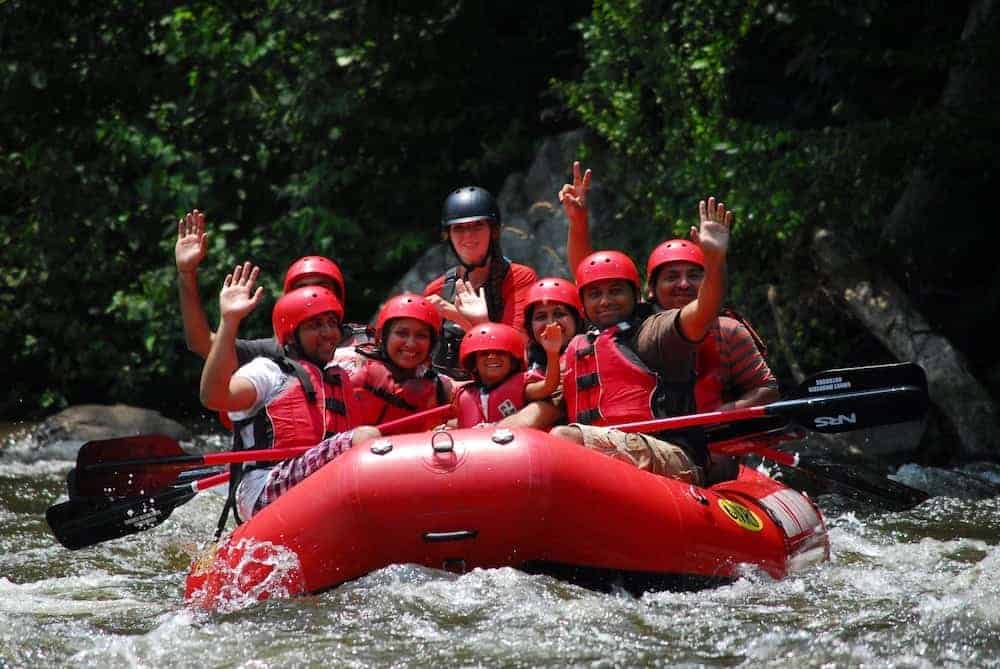 Top 3 Reasons Why Our Guests Love the Photos of Their Smoky Mountain Rafting Adventure
The only thing better than joining one of our white water rafting trips is taking home a photo of your group challenging the rapids! There is no need to worry about bringing your own camera, as we take pictures of your adventure that you can purchase from our office! This is the perfect way to remember your action packed time in the Smokies with your family and friends! Here are the top 3 reasons why our guests love the photos of their Smoky Mountain rafting adventure:
1. Exciting Action Shot
Our professional photos provide an exciting action shot of your white water rafting trip as they are taken at a special vantage point from the river! Since these photos capture one of the most thrilling rapids of the trip, you will get a kick out of seeing yourself splashing through the waves!
After your excursion, simply visit our office and our friendly staff will be delighted to show your photo!
2. No Need for Personal Cameras
Another reason why our guests love the photos of their Smoky Mountain rafting adventure is because they don't have to worry about their personal camera or cell phone! After all, you and everything that you bring along will probably be getting soaked on the rafting trip! There is also the possibility that you could lose an item while rafting, so leave those worries behind by taking advantage of our convenient lockers for storing cameras or other personal items!
3. Fun Gifts for Family Members
The photos of your Smoky Mountain rafting adventure make fantastic gifts for family members! Once you purchase one of our professional photographs, you can take it home to have it framed for a gift! Surprise your loved ones with this priceless memento from your vacation in the Smokies that they can display in their house for years to come! The photos are also great gifts for relatives who didn't make the trip but want to see their grandkids or children in action on the river!
About Our Rafting Trips
We offer several thrilling whitewater rafting trips on the Pigeon River that are fun for all ages! Our Upper River Rafting, Lower River Rafting and Extreme Upper River Rafting trips are available from May through September, while our Spring and Fall trips are available March to April and September to October. The primary difference with the Spring and Fall trips is that the water levels are less predictable during these times of year, so you may have the opportunity to experience both a leisurely trip down the river or class III to IV rapids! During the summer months, the Upper River Rafting trip offers a 6.5 mile trip with class III and IV rapids and is one of the most popular excursions! For those that prefer something a bit more relaxing in the summer, consider the Lower Pigeon Rafting trip!
Check out all of the information about our Smoky Mountain rafting trips today to plan your adventure on the river! We look forward to seeing you soon!