3 Ways to Prepare for Your Lower Pigeon River Rafting Trip
Rafting is one of the most enjoyable activities to do as a group or a family. There are many great rivers throughout this country to go rafting. However, one of the best places to go rafting with a group is on the Lower Pigeon River. The Lower Pigeon River rafting trip will take you on a 5.5-mile trip through the scenic Pigeon River gorge. During the trip, you will run about 50 class 1 and 2 rapids with 1 class 3 at the end. Water fights and splashing are very popular aspects of the Lower Pigeon River trip, that you won't want to miss out. Of course, in order to have a truly spectacular rafting trip you have to prepare your group and family beforehand. Here are the best ways to prepare for your Lower Pigeon River rafting trip.
1. Make a Reservation
One of the best ways to ensure that you will get to go rafting on the day and at the time you want is to make a reservation. Also, this helps you know which days the river is open for rafting so you don't choose a day to go when the river isn't open. Another perk for making a reservation is that you get a discount for making an online reservation and we know everyone likes saving money!
2. Make Sure You Have Everything You Need
Lower Pigeon River rafting is one of the most fun and exciting activities that you and your group could participate in, in the Pigeon Forge area. However, before you go rafting, you need to make sure you have brought everything you need. In the spring, avoid cotton clothing and instead choose synthetic fabrics like fleeces and polypropylene. Cotton absorbs water and will make you cold. We will provide nylon jackets and pants to wear over your clothing.
The summer is a completely different story. Swimsuits and shorts work best. Secure shoes with heel-strap are required. For both spring and summer don't forget to bring a change of clothes, a towel and lots of sunscreen because even on a cloudy day you and your group members can get sunburned. More great things to bring are snacks and water to eat and drink before and after your Lower Pigeon River rafting trip.
3. Arrive Early
It is very important that you and your group arrive early to for your Lower Pigeon River rafting trip. You should arrive at least 30 minutes early when you are rafting in the spring and an hour in the summer. Arriving early means you and your group can get settled, get all the gear you need and even start your rafting trip on time or even early.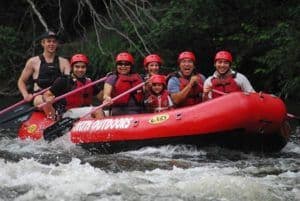 Being prepared for your Lower Pigeon River rafting trip is the best way to ensure you will have an amazing time rafting down the river. Make a reservation for your spring or summer Pigeon River rafting trip today, so you can experience the fun for yourself this year.