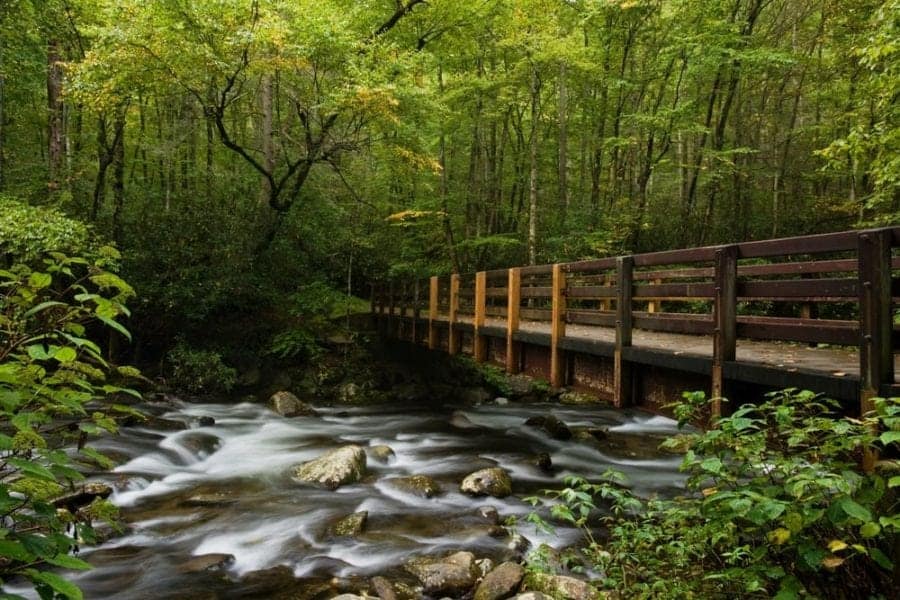 4 Fun Outdoor Things to Do in the Smoky Mountains in September
As the weather starts to get cooler and fall is beginning, it is the perfect time to soak up the great outdoors. Though the summer activities have come to an end, there is still plenty of outdoor fun to be had! To help you decide what to do when you visit, we've put together a list of some of the top outdoor things to do in the Smoky Mountains in September:
1. Fall Rafting Trip
Though our Upper River rafting trips are no longer available, that doesn't stop us from having a great time out on the Pigeon River! Through mid October, we offer fall rafting trips. These trips are great if you want to experience the Smokies in a new way. Because the trips vary based on the water levels, these trips are unpredictable — making them even more exciting! You may hit class 3 and 4 rapids, you may have a scenic float, or you may have both. The only thing that is guaranteed is that the experienced guide who accompanies you on the rafting trip will navigate you through the best waves to help make sure you have an amazing time!
2. Zipline at CLIMB Works
Another way to enjoy the great outdoors in September is to visit CLIMB Works. If you visit the Smoky Mountains toward the end of September, ziplining is a wonderful way to spot all the leaves that have started to change from various shades of green to oranges and yellows. You'll have an incredible bird's eye view of the Smoky Mountains, so you have a better chance of spotting the fall foliage.
3. Go for a Hike
To explore the natural beauty of the Smoky Mountains, go for a hike! The Great Smoky Mountains National Park has more than 850 miles of trails. Toward the end of September, the leaves start to transform into gorgeous fall colors at higher elevations. If you want a chance to spot some of the beautiful fall foliage, your best bet would be to hike to the Clingmans Dome Observation Tower. At 6,643 feet, Clingmans Dome is the highest point in the Great Smoky Mountains National Park. The observation tower offers 360-degree views of the Smokies and beyond. To get there, you will hike a steep, half-mile trail from the parking lot to the summit. Other popular hikes in September are Andrews Bald and Mount LeConte.
4. Go Camping
What better way to spend your time in the great outdoors than by sleeping there? Pigeon River Campground is right down the road from our rafting outpost and provides you with everything you need to enjoy some time outside. There are campsites for tents, RV sites, and even camping cabins for those who want to enjoy the outdoors but still have the privacy and comfort of a cabin vacation. There are a variety of amenities at the campground that make your stay even better, like volleyball, horseshoes, cornhole, and access to the river. There is even a fire pit so you can roast marshmallows before you go to sleep!
These are just some of the many outdoor things to do in the Smoky Mountains during September. Start planning your adventure today by reserving your rafting trip with us at Smoky Mountain Outdoors!