Top 5 Things You Didn't Know About Kayaking in the Smoky Mountains
We no longer offer inflatable kayaking trips.
While everyone knows we offer white water rafting, some may not know about our kayaking trips in the Smoky Mountains. This is a fun and unique way to experience the Pigeon River! We want to share some things you may not know about kayaking with us. Here are the top 5 things you didn't know about kayaking in the Smoky Mountains:
1. Kayaks are Inflatable and Not Plastic
One thing you may not know about our kayak trips is the kayaks we use aren't made of plastic; they're inflatable! They are designed with maximum comfort in mind while you are floating down the river. You want to be comfortable so you can focus on having a good time. The inflated kayak is also built for stability out on the water for when you go over the water.
2. Trips are from May to September
Another thing you may not know about kayaking in the Smoky Mountains with us is our trips run from May to September. Any time during these months, you can come and float down the river in our kayaks for a great time. You can come with your kids, friends, and significant other to have an amazing adventure out on the water.
3. You Don't Have to Be Experienced
Something else you may not know about kayaking in the Smoky Mountains with us is you don't have to be experienced to go on the trip. Many people might think you need to have gone white water rafting before you can go kayaking, and that's not true either! It doesn't matter if you've never been kayaking before or if you've been hundreds of times, you will enjoy kayaking with us!
4. Specific Requirements to Kayak
We do have a few specific requirements in order for you to kayak with us. Participants must be at least 12 years old. Younger children may not float down the river on the kayaks, but you can book one of our lower river white water rafting trips if you do have younger children! Another stipulation we have for you to be able to go kayaking with us is you must be able to swim. For safety reasons, we require all guests who want to kayak know how to swim.
5. Still a Guided Tour Down the River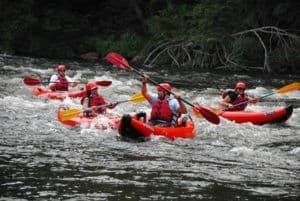 Since every single one of our kayaks is a single-person kayak, you may think you are just floating down the river by yourself, but that's just not true! On every single trip, you will have a guide in the front of your kayak group leading everyone down the river. You'll get to ride in a group of other individual kayakers following your guide. You will get to control your own kayak but have the same amount of fun as if you were in a group!
Kayaking in the Smoky Mountains is a fun activity you will want to do. Hopefully you've learned a little more about this great outdoor activity! Want to learn more about our trips so you're ready for next kayaking season? Look at our kayaking trips now! Availability does fill up quickly since we don't have an unlimited supply of kayaks, so be sure to make your advanced reservations so you can secure your trip!