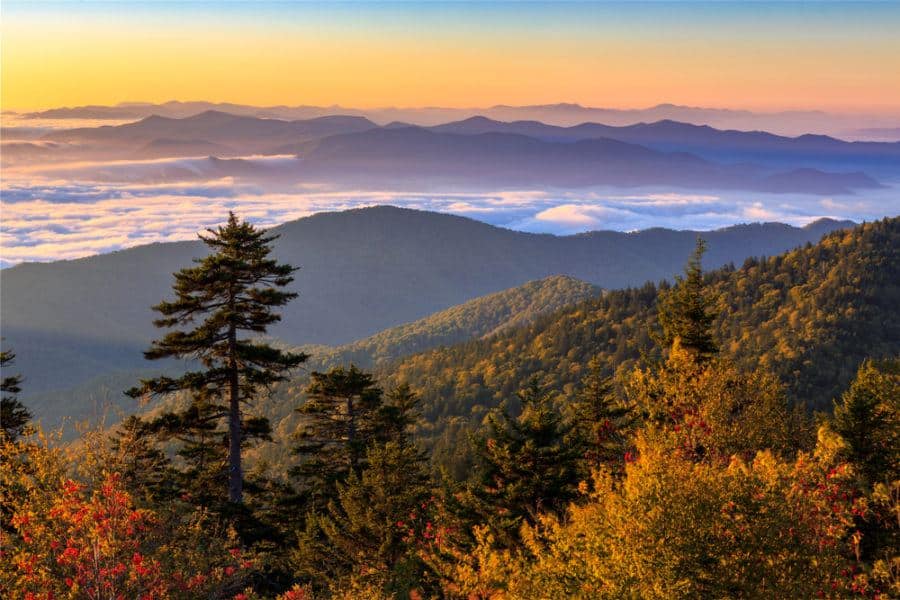 Although Smoky Mountain Outdoors is known as the premier whitewater rafting outfitter in the Smokies, many people don't realize that there are exciting activities for you to enjoy nearby! While on vacation in Gatlinburg, be sure to check out these other 3 fun things to do in the Great Smoky Mountains:
1. Ziplining in the Smoky Mountains
One of the best ways to experience the beauty of the Smoky Mountains other than whitewater rafting is going ziplining! CLIMB Works has 2 exciting zipline tours for you to choose from that both offer breathtaking views of the Smokies. On their Treetop Zipline Tour, you'll soar through the trees on 9 world-class ziplines, cross 3 sky bridges and even ride an ATV! On their Mountaintop Zipline Tour, you can ride side-by-side with friends and family and see panoramic views of the mountains. Whichever you choose, you're guaranteed to have an experience you won't forget. We even offer a combo package that helps you save on a rafting trip with us and a zipline tour with CLIMB Works for the ultimate outdoor experience!
2. Camping in the Smoky Mountains
What better way to end an incredible day in the Smoky Mountains than by spending the night underneath the stars? Our rafting outpost is just minutes away from Pigeon River Campground, which offers the best Smoky Mountain camping experience around! Not only can you choose from tent camping, camping cabins, or RV camping, but you'll be provided with amenities that you won't find anywhere else. There are outdoor activities like volleyball and cornhole, a swimming pool and even a general store in case you want to pick up some snacks! You will have the best time camping at Pigeon River Campground.
3. Inflatable Kayak Trips on the Lower Pigeon River
If you you looking for a different type of whitewater adventure than our traditional rafting trips, check out our inflatable kayak trips on the Lower Pigeon River! This is a great chance to experience one of the most exciting activities in the Smokies! Our inflatable kayaks are designed with enhanced stability and excellent comfort to accommodate both novice and experienced kayakers. As with our whitewater rafting trips, all of our kayaking trips are fully guided for your safety. However, in this case, you have the unique opportunity to drive your own boat! Our guides are there to provide paddling tips while safely escorting you down the river. During your adventure, your guide will teach you kayaking methods such as sliding, spinning and surfing. Whether you are a first time or veteran kayaker, come on out to Smoky Mountain Outdoors for an action-packed day on the river! Keep in mind that our inflatable kayaking trips are only available May through September.
With so many great things to do in the Great Smoky Mountains nearby, Smoky Mountain Outdoors is your ultimate destination for fun and excitement! In addition to our rafting trips, be sure to enjoy some of the other fun things to do in the Smoky Mountains while you're here. To help you plan your the perfect, check out our discount attraction packages.