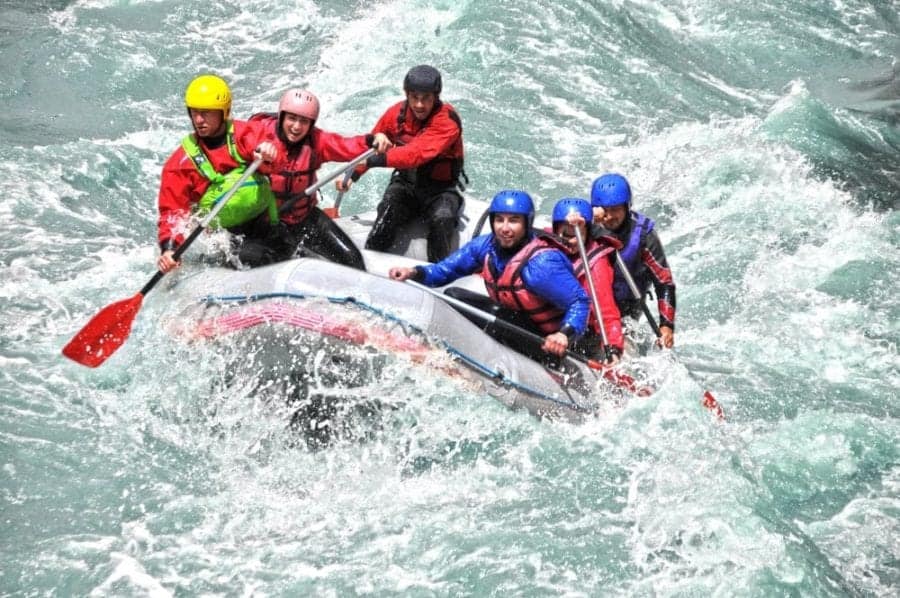 4 Things You Learn During Your First Pigeon River Rafting Adventure
White water rafting on the Pigeon River is a ton of fun, especially if you have never been before. By the end of it, you and your family or group will feel unstoppable after you have conquered a countless number of rapids, twists, turns, dips and anything else the water decides to throw at you.
That being said, there are quite a few things that guests learn during their first Pigeon River rafting adventure that you may not have imagined beforehand.
What You Learn On A Pigeon River Rafting Adventure
How to Let Go and Relax
Yes, your Pigeon River rafting adventure will be full of rapids where you and your group will need to conquer, but there are moments where you will be in calm water as well. During this time, you will be able to relax a little in the raft and simply enjoy yourself in the moment.
Here, all your stress from daily life and chaos will wash away with the waves of the river.
How to Trust Your Guide
If it truly is your first time white water rafting on the Pigeon River, you may feel a bit intimidated. However, as you embark on your adventure, you can rest assured that your experienced guide is more than capable of making sure that you and your group have a fun and safe trip.
At Smoky Mountain Outdoors, all of our guides are certified in standard First Aid, and have completed a rigorous training program that includes a minimum of 15 to 20 trips on the river.
Also, depending on the guide, you and your group will be able to learn a lot more about the history of the Pigeon River and its history based on the stories and knowledge they have to share with you and your group.
How to Dress For the Water
On our website, guests will find a ton of tips on what to wear when white water rafting on the Pigeon River, including what shoes to bring, fabrics to wear and accessories to leave in the car. These tips are there to help make sure guests will be able to stay warm and comfortable during their adventure.
However, all guests' preferences are different, so it will take experiencing a rafting adventure of your own to learn what all you will need when on the river. A few of the biggest suggestions we make to visitors on what to wear include:
Wear water-resistant clothes that dry quickly
Leave jewelry at home or in the car
If you need your phone, keep it in a waterproof plastic bag
Don't skip the sunscreen
How Appreciate Nature
Finally, one of the biggest lessons first time rafters learn during their Pigeon Forge rafting adventure is how to properly take in the scenic beauty of the Smoky Mountains from the water. What is unique about white water rafting is you are able to see a different side of the Smokies.
Because there are fewer people around on the water as there are on the hiking trails and scenic overlooks, guests have a greater chance of seeing wildlife in their natural habitat.
Our Pigeon River Rafting Adventures
At Smoky Mountain Outdoors, we offer two very distinct Pigeon River rafting adventures. Both trips offer stunning views and a thrilling experience for guests to enjoy.
Upper Pigeon River Rafting Adventures
Our upper Pigeon River rafting adventure totals 6.5 miles and offers 70 different rapids that range from Class I to Class IV. This trip is perfect for older kids and adults who are looking to have some fun on the Pigeon River during their next vacation in the Smoky
Mountains.
During this adventure, guests should expect big waves, big drops and a ton of excitement!
To find out more about our upper Pigeon River rafting trip, click the Rafting Trips tab on our website.
Lower Pigeon River Rafting Adventures
The lower Pigeon River rafting adventure we offer is a little tamer than the upper Pigeon River trek. Perfect for younger children, this route is a little shorter at 5.5 miles long and has mainly just Class I and Class II rapids with one Class III at the end.
The lower Pigeon River rafting adventure is also a much slower pace than the upper river route, so that means that splashing and playing in the water is highly encouraged.
Click here to learn more about our lower Pigeon River rafting trip.
If you would like to learn more about all of the thrilling Pigeon River rafting adventures we offer, feel free to give our white water rafting experts a call today.